Enable rapid recovery post-transplant, and increase plant vigour
Promote a robust root system and strengthen plant's establishment and growth, equipping plant with better resistance to both biotin and a biotic stress
Promote a healthy plant system that enables rich flowering and fruit set
Support strong fruit development, size, and quality
Protect the crop from infestations with clean, organic solutions
Achieve improved quality, yield, and ROI in your crop
The Grow Seven Tomato Crop Program is designed to offer unique solutions that support and enhance current grower practices. This program includes solutions aimed at strengthening plant establishment, and providing nutritional ingredients - using our proprietary delivery technology - that are essential throughout the growing season in order to achieve optimal harvest quality and quantity. We aim to help growers benefit from a customized program that is designed to meet their specific needs. Below is our recommended Tomato program, which can be incorporated into current application Systems.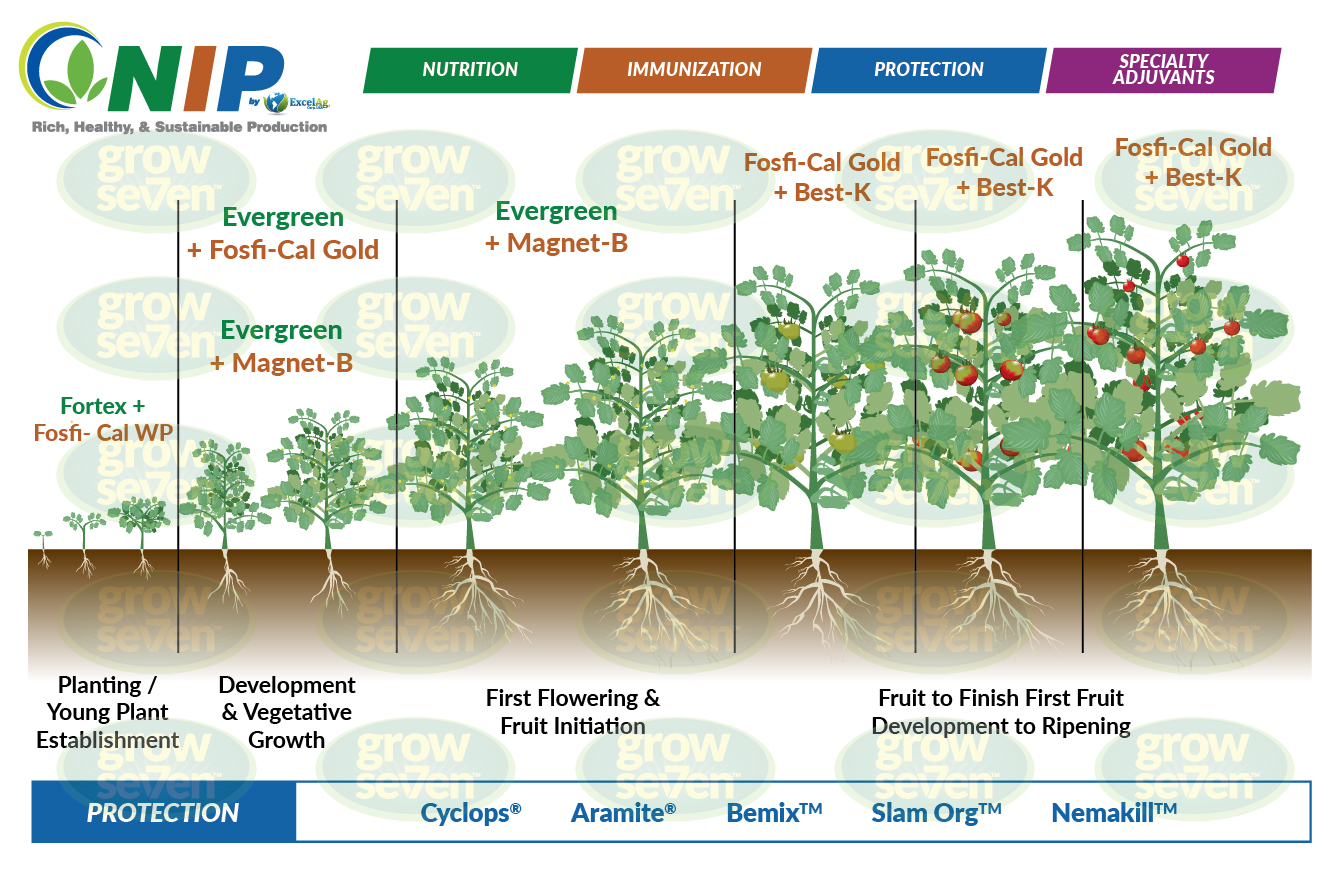 GrowthStage
Applicaton
Planting/Young Plant Establishment

Use Fortex™ in drip irrigation at planting at a rate of 16oz/ac, to promote rapid root development. For transplanting, use Fortex™ in dip solution at a rate of 8oz/ac, soaking the roots. We also recommend including Fosfi-Cal WP at a rate of 1lb/ac, to promote root establishment and enable a stronger immune system.

Development and Vegetative growth

7 days after transplant, spray plant with Evergreen™(16oz/ac) and Fosfi-Cal Gold™ (16oz/ac). The next application should be 7 days before bloom set, using Evergreen™ (16oz/ac) and Magnet-B™ (24oz/ac).

First Flowering and Fruit Initiation

Approximately 14 days after previous application, apply Evergreen™ (16oz/ac) and Magnet-B™ (16oz/ac).

Fruit to Finish: First Fruit development to ripening

Our program recommendation is to implement at least 3 applications as follows:
• Approximately 7 days after previous treatment, apply  Fosfi-Cal Gold™ 16oz/ac) and Best-K™ (32oz/ac).
• Approximately 10 days later, apply  Fosfi-Cal Gold™ ( 16oz/ac) and Best-K™ (32oz/ac).

Crop Protection

To manage fungal infestations, use Cyclops™ at a rate of 8oz/ac (applying every 7- 14 days depending on level of infestation) as a preventative treatment or to suppress/control spread. To manage piercing-sucking insects, use Aramite® at a rate of 32oz/ac (applying every 7- 14 days depending on level of infestation). If infestation is heavy, you may use Aramite® (24oz/ac) plus Bemix® (16oz/ac), which acts as an activator amplifying strength of pesticidal effect .
Grow Seven products can increase your plant yields and enhance your ROI.
NEED HELP?
Call us at 1-866-90-GROW7 or send us an email and we will respond within a business day.
We work closely with growers to design customised formulas that solve specific problems. We've developed a robust set of products that are proprietary, innovative, and made in the USA.